Is Facebook Still King?
Considering recent privacy issues, is Facebook still the right platform for your organization or business?
Facebook Woes
Over the last 18 months or so, I'm sure you've heard of Facebook's troubles. There were reports of the social media giant sharing data to large companies such as Amazon, Yahoo and Bing. The privacy issues continued with accounts of allowing access to users' private messages by Netflix and Spotify. And, an internal bug allowed third-party apps to access the photos of 6.8 million people. Ugh! So, after all of those issues that the public found to be violating and unjust, can it be that Facebook is still King? Oh yes, and businesses and organizations need to react as such.
The Numbers
Despite what seems to have been an anecdotal mass exodus from the platform, it turns out that people are not just staying with Facebook, but more and more are using it on a regular basis. According to Facebook, its Daily Active Users, world-wide, actually increased 8.7% from the fourth quarter of 2017 to the fourth quarter of 2018 (1.4 billion to 1.5 billion). The good news continued for Facebook into 2019, increasing its Daily Active Users from the fourth quarter of 2018 to the first quarter of 2019 by 2.6%. If we look at only users in the United States, the second and third quarter of 2018 did show a downturn in Daily Active Users, but by 2019, this statistic was at its highest level yet, 186 million Daily Active Users. So, while people claimed to have 'given up' on Facebook, the numbers definitely do not support those claims.
Not only is Facebook adding users each quarter, but it is still outpacing other top social media platforms. Over the past year, popular social media sites have had varying degrees of success. According to Pew Research, Facebook, Instagram, and LinkedIn had increases in the percentage of U.S. adults using their platforms or messaging tools from 2018 into 2019. Conversely, Snapchat, Twitter, and WhatsApp all declined in users, while YouTube remained steady.
To get a sense of Facebook's share of the social media space, check out these statistics from the first quarter of 2019: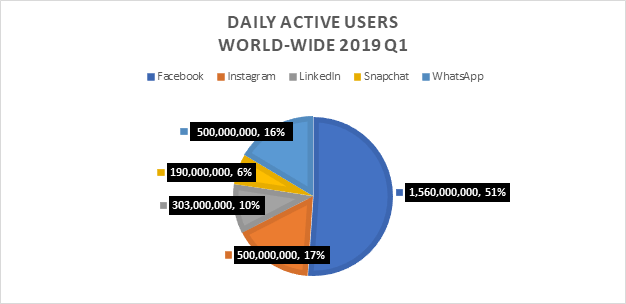 Source: Zarinance.com
Note: Twitter is not represented because they no longer publish Daily or Monthly Active User statistics. Many believe this is due to their recent decline in these areas.
Is Facebook Still King?
Well, yes, now that we've established that Facebook IS still king, let's remember why your businesses or organization should take advantage of its status.
Facebook provides:
Great exposure to a world-wide audience, plus opportunities to focus on specific targets through posts, stories, groups and ads. Plus, it is very effective at directing traffic to your website, which is the goal.
An interactive format that allows your organization to learn what your customers want and need.
Excellent messaging tools for administering personal and timely customer service.
Cost effective promotion compared to some traditional media outlets such as print and television.
Prime opportunities to both define and humanize your brand and increase its exposure.
An educational tool to describe and demonstrate your product and services through text, images and video.
Go Forth and Post!
Just like Mark Twain was quoted as saying, "The reports of my death are greatly exaggerated", so was the downturn of Facebook. This is good news for your business or organization as it remains a cost-effective way to connect with your community. So, all hail the King, and take advantage of its treasures!
---
♥♥♥
Looking for professional help with your marketing and communications planning? Learn More about how Inspired Media can make the most of your efforts and effectively connect with the target audiences for Your Industry. Contact Us today, we'd love to talk with you!
Visit Inspired Media on Facebook!